Data.wa.gov.au already contains explanations of the fields you'll need to fill in as part of the data publishing process. This longer step-by-step guide is intended for first-time users and includes some more descriptive explanations of certain fields.
Publishing a dataset - new data publishers
If this is your first time publishing a dataset on data.wa.gov.au we suggest you check out our step-by-step video for a walkthrough video. 
Metadata standard
DataWA uses components of the AGLS, Dublin Core and Data Catalog Vocabulary metadata standards.
Title
The name of your dataset.
Description
A description of your dataset. You can also include further information or caveats pertaining to the data here.
Access Level
Refers to the degree to which this dataset is/could be made available to the public.
Open - Free and publicly available: Intended for public access and use with no access restrictions.
Open - Free and login required: Intended for public access and use if they identify themselves.
Closed - Subject to approval or payment: Only available under certain conditions (e.g. payment) or to specific audiences (such as researchers who sign a waiver).
Restricted - Government use only: Data that could never be made available to the public in its raw form for privacy, security, or other reasons as determined by your agency.
Data Access Statement
A brief statement from the data custodian describing the access arrangements pertaining to this dataset. The statement should clearly state:
The reason for the access or classification level applied;
who is permitted to access the data, and what terms they are bound by; and
how to apply for or enquire about access.
Access URL
If not Open - Free and publicly available, a URL to a webpage that will explain how to get access.
Tags
Some tags (or keywords) that describe your data.
License
A dropdown of available licenses for data.wa.gov.au (Licensing Creative Commons is endorsed by WA Government and the recommended default under the Open Data Policy)
Organisation
A dropdown of organisations you can publish to. Most users can only publish to a single organisation. This will be automatically filled in.
Visibility
Whether the dataset will be viewable to all users once complete. This is intended to allow organisations to internally review metadata before publishing, not as a means to publish private datasets. The default is private.
Data Portal
Another website or resource that users may go to to discover more context and information about the dataset (e.g. The relevant page on your agency's website). If that does not apply, leave it blank.
Data Homepage
For datasets that exist in another catalogue (e.g. SLIP) this will be the access point for detailed catalogue-specific information about the dataset. If you're unsure, leave this blank.
Author & Author Email
The name and email address of the person who is primarily dataset for creating and maintaining the data.
Maintainer & Maintainer Email
The name and email address of the person who is responsible for maintaining the dataset on data.wa.gov.au.
Theme
The AGIFT top level government function to which the dataset relates.
Geospatial Theme
***
Published On
The date on which this dataset was, or shall be, published.
Data last updated on
The date on which the data on data.wa.gov.au itself was last updated.
Update Frequency
How often the dataset is updated. Eg: Daily, Weekly, Never.
Temporal Coverage
The span of time from/to which the data is applicable. If the data applies only to a single point in time you should only fill in the Temporal Coverage From field.
DOI
The Digital Object Identifier assigned to your dataset (if you have created one). More information about the DOI system is available here, and is more typically used in scientific disciplines and publishing. If you're unsure, leave this blank.
Citation
The citation that users of the dataset should use in publications, articles, et cetera. If you're unsure, leave this blank.
Geospatial Source Projection
***
Geospatial Coverage
This is the physical area which the data covers. It is used to power the search functionality of data.wa.gov.au, so it does not need to be precise. It can be;
a rectangle/polygon drawn by-hand;
a pre-defined extent; or
a GeoJSON formatted Polygon/MultiPolygon.
Tip: Data sourced from SLIP will populate this field automatically.
Supporting documentation
Publish any supportive documentation, caveats, user restrictions, and contextual information in the text of the descriptive information about the data set. If the information is extensive it can also be uploaded as an additional resource to the dataset.
Please do not put the data into the documentation itself, as it means the platform will treat it as just another file like a PDF rather than as a data file. This means the data is inaccessible to users and no API or data visualisation will be available for your dataset.
Publishing screenshots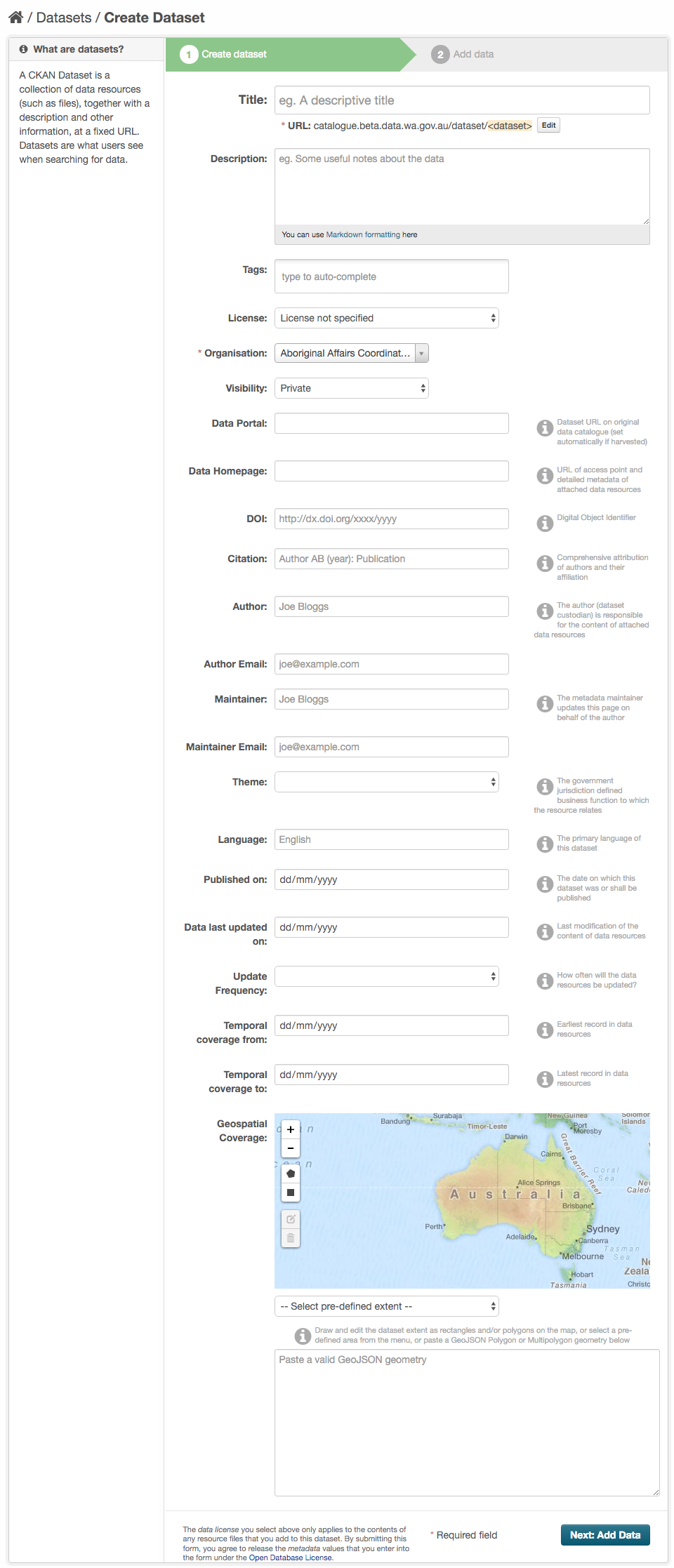 Publishing a new dataset – Step 1 - Details about the set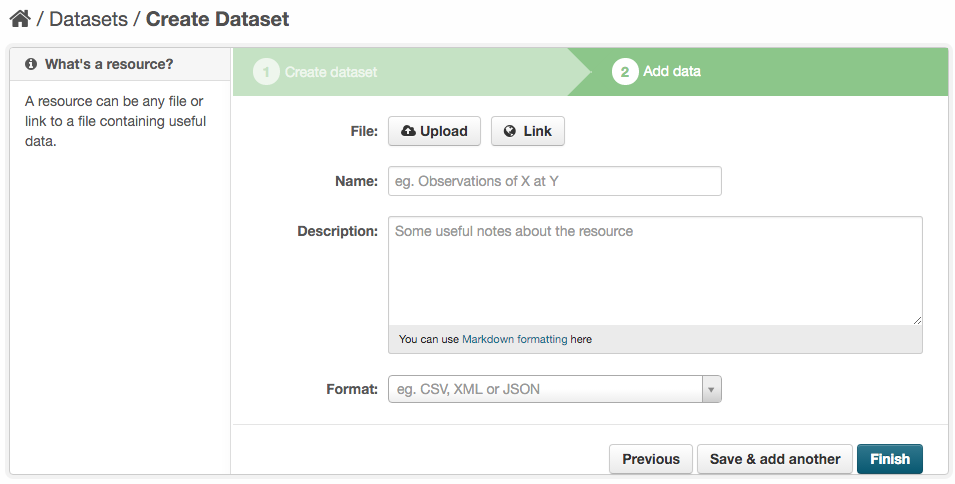 Publishing a new dataset – Step 2 - Upload file(s) or a link to a data service