When would I need a SLIP account?
Public services and maps do not require a SLIP account. You can simply click to open SLIP maps, or copy and paste SLIP service URLs into your GIS or other application. However, if you would like to download this data you will need to create a SLIP account when prompted. See How do I access new SLIP services?.
SLIP subscription maps and services require you to register. Registration is free and easy to do by following the instructions below. Once you have registered to access SLIP subscription maps, you can request access to the maps and datasets by following the prompts when you try to access them.
How do I create an account?
​Registering to access subscription services in SLIP is as simple as registering for an account​, or signing in with your existing Google ​​account.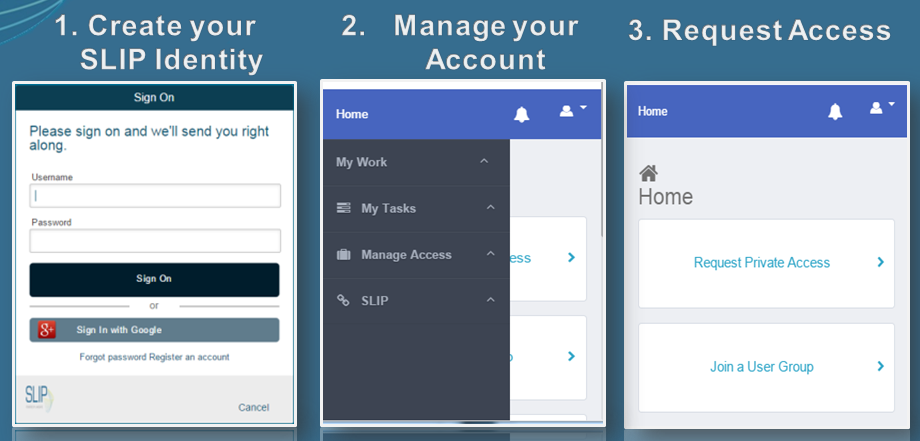 Find our full step-by-step video guide to registering a new SLIP account below.
Stuck?
If you need help please contact BusinessSolutions@landgate.wa.gov.au.
SLIP User Account Rules​
The following User Account Rules apply to all registered SLIP Users.
1. Users must not share accounts. Each user must have an individual SLIP account.​
2. Users are responsible for all activities on their registered account.​
3. Duplicate Accounts:​​​​​​​
​​a. Users should where possible, avoid the creation of duplicate SLIP Accounts.

b. If an account is deemed to be a duplicate, the user will be contacted via e-mail requesting that one account be chosen for ​deletion. Once that confirmation has been provided, then that account will be deleted.

c. Where the user requests the retention of a duplicate account, the user acknowledges that they may be contacted by Landgate to discuss this requirement.
4. Inactive Accounts:

a. SLIP User Accounts that have access to public data only, may be deleted if inactive for a period longer than six (6) months

b. SLIP User Accounts that have access to subscription services, may be deleted if inactive for a period longer than twelve (12) months.​
​SLIP Users will be notified by Landgate that their accounts have been inactive and will be deleted unless:
i. The account is reactivated by means of logging into SLIP within the next two-week period; or

ii. An exemption is granted by Landgate at their sole discretion
5. If an account is registered to an email address that is found to be invalid the account will be deleted immediately.
Please note - SLIP Account Rules have been put in place to:​
* maximise the efficient use of resources and ensure appropriate security for SLIP data and the private information of SLIP users.

* Ensure that access to SLIP services is measureable and auditable.

* Minimise storage of user registration information that is inaccurate, duplicated or redundant.

* Identify potential opportunities for Landgate to improve SLIP by means of customer feedback.
​These rules will apply to all registered SLIP users, with the exception of the following:
* Any 'application' account - denoted by a USER ID beginning with APP or with a nominated Purpose of 'web application';

* Any account that has grounds for exemption as determined on a case-by-case basis by Landgate.​
revise